What is DASH?
This is what Lenovo says
Dash (desktop and mobile architecture for system hardware) is a set of specifications developed by
dmtf, which aims to provide open standards based web service management for desktop and mobile
client systems. Dash is a comprehensive framework that provides a new generation of standards to
protect the security of out of band and remote management of desktop and mobile systems in multi
vendor, distributed enterprise environments. Dash uses the same tools, syntax, semantics, and
interfaces across the product line (traditional desktop systems, mobile and laptop computers, blade
PCs, and thin clients).

https://download.lenovo.com/pccbbs/thinkcentre_pdf/thinkstation_p620_dash_configuration_guide_v1.3.pdf
Why are you using it?
I've upgraded my homelab Proxmox instance to a Lenovo ThinkCenter M75q Gen2 with an AMD Ryzen Pro
https://www.lenovo.com/ca/en/p/desktops/thinkcentre/m-series-tiny/thinkcentre-m75q-gen-2/11jn002nus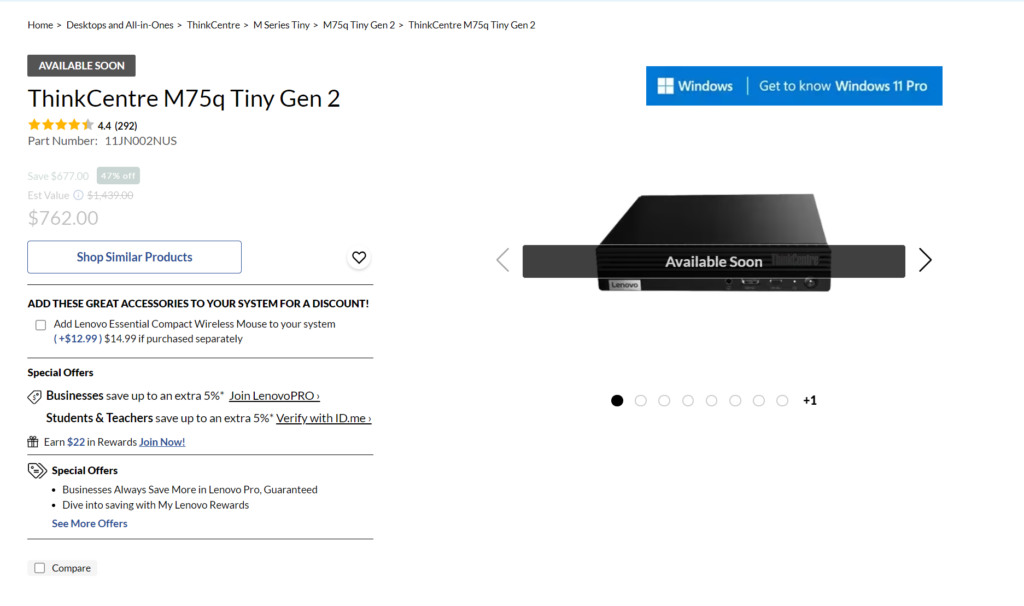 Processor: AMD Ryzen™ 5 PRO 5650GE Processor (3.40 GHz up to 4.40 GHz)
Operating System: Windows 11 Pro 64
Graphic Card: Integrated AMD Radeon™ Graphics
Memory: 8 GB Non-ECC DDR4-3200MHz (SODIMM)
Storage: 256 GB SSD M.2 2280 PCIe TLC Opal
AC Adapter / Power Supply: 65W
Networking: Integrated Gigabit Ethernet
WiFi Wireless LAN Adapters: Intel® Wireless-AC 9260 2×2 AC & Bluetooth® 5.1 or above
It's not a bad system, moving from a Dell OptiPlex 7060
Processor: Intel(R) Core(TM) i7-8700T CPU @ 2.40GHz
Memory: 32 GB Non-ECC DDR4 Memory Non-ECC 2666MHz
Upgrades to the ThinkCenter M75q Gen2
Since there's only 8GB at purchase, I opted for Non-ECC 32GB kit, the ThinkCenter M75q Gen2 supports up to 64GB but felt that it wasn't necessary to go 64GB yet. Also I didn't do ECC as this was a low cost upgrade.
I dropped in a Kingston NVMe v4 1TB drive and a 1TB SSD drive just because I had it laying around.
AMD Management Console Downloads
You will need to download the AMD Management Console
https://www.amd.com/en/technologies/manageability-tools
Setting up DASH
I was able to enable DASH supprt in the BIOS but didn't find any configuration options.
Additional Resources
Did you like this article?